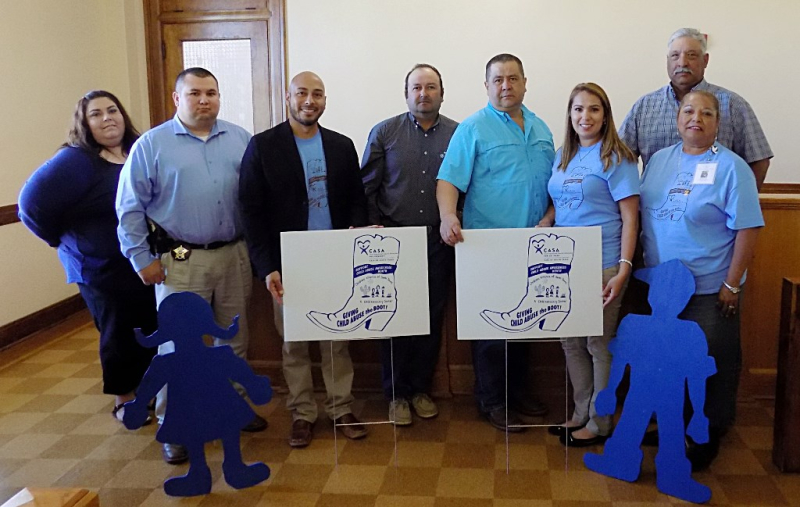 "Strengthening the communities..."
Commissioners support

Child Abuse Prevention proclamation

PRESENT TO WITNESS La Salle County's proclamation of April as Child Abuse Awareness and Prevention Month on Monday, April 3 were (L-R) La Salle County Sheriff's Office Victims' Advocate Rosario Morales, Investigator Homar Olivarez, Children's Alliance of South Texas Executive Director Mikey Betancourt, Commissioner Jack Alba, County Judge Joel Rodriguez, Children's Alliance representative Jessie Galindo, Wintergarden Women's Shelter Cotulla Outreach representative Diane Gonzalez, and Commissioner Noel Niavez.

"All children deserve to have the safe, stable, nurturing homes and communities they need to foster their healthy growth and development," La Salle County Judge Joel Rodriguez read from a proclamation Monday, April 3, confirming his and the county commissioners' support for Child Abuse Prevention and Awareness Month.
The court's backing of the month's designation came on the same day as county and regional child advocates and caseworkers gathered in the La Salle District Court to witness a proclamation by Associate Judge Melissa DeGerolami, who put an emphasis on the work done by those who handle intervention and children's cases. Speaking in county commissioners' court, Judge Rodriguez struck a different note in his encouragement of education and awareness as a means to combat child abuse.

"Children are vital to our state's future success, prosperity and quality of life," the judge read in court Monday afternoon, "as well as being our most vulnerable assets.

"Child abuse and neglect are a community responsibility, affecting both the current and future quality of life in a community," the county judge said, putting an emphasis on a local responsibility for education to increase awareness of a child abuse crisis and to muster multiple agencies into a coordinated action plan for intervention. "Communities that provide parents with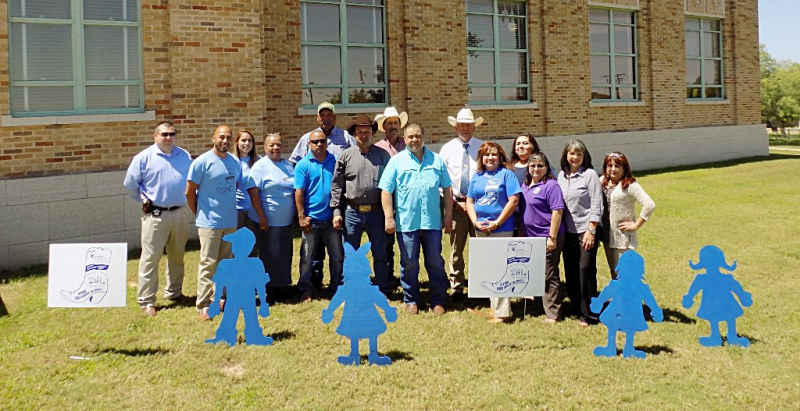 the social support, knowledge of parenting and child development, and resources they need to cope with stress and nurture their children, ensure all children grow to their full potential."

Children's Alliance of South Texas Executive Director Mikey Betancourt was joined at the commissioners' court meeting by members of his staff at the Child Advocacy Center and by members of the Court-Appointed Special Advocates of South Texas and told commissioners that he believes La Salle County government has been particularly supportive of efforts to reduce child abuse in the region.

"You have always been super supportive of what we do," Betancourt said, "and we and the children we serve appreciate your support. We have interviewed a number of children at our center here and in Frio County. You have helped us make a difference."

SILHOUETTES handmade by students of Cotulla High School's Building Trades Department were donated this week to the Wintergarden Women's Shelter to represent the innocent victims of child abuse and neglect, and were placed on the lawn of the La Salle County Courthouse Monday, April 3 to mark the month's designation for intervention in cases of crime against youngsters. Wintergarden representatives were joined by La Salle County Sheriff Miguel Rodriguez and investigators, local government leaders and children's advocates in promoting the silhouettes and in celebrating their cooperative work for the benefit of the young who are served by prevention specialists, law enforcement, shelter, advocacy and counseling in the path to freedom from harm.

"Effective child abuse prevention strategies succeed because of partnerships," County Judge Rodriguez said, noting that he believes La Salle County is fortunate to have "citizens, human service agencies, schools, faith communities, healthcare providers, civic organizations, law enforcement agencies and the business community" working cohesively in an awareness and intervention campaign. "We call upon all citizens to increase their participation in our efforts to support families, thereby preventing child abuse and strengthening the communities in which we live."

The judge was joined in signing the proclamation by Commissioners Jack Alba and Noel Niavez. Commissioners Raul Ayala and Erasmo Ramirez attended the meeting later in the afternoon of the same day.